Definition of Suited Connector
What is a "suited connector"? What is the definition of the term "suited connector"?
In poker, a "suited connector" occurs when you have consecutive cards of the same suit.
For instance - let's say that you are playing No Limit Hold'em and are dealt 7h-8h. This is a "suited connector", as the cards are consecutive (7,8) and of the same suit (Hearts).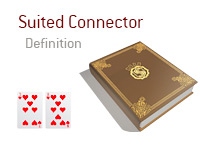 The appeal of the "suited connector" is obvious - you have the potential for a straight or a flush, or even a straight flush.
--
Let's take a look at when you may want to play a "suited connector":
You are sitting in a $1/$2 No Limit Hold'em game at your local casino.
You are in the SB. The "under the gun" player raises to $10, and every other person that acts in front of you decides to call. You look down at 3s-4s and make the call. Given that the pot is so big, and given the fact that you have been dealt a suited connector, you decide to make the call. The BB calls as well.
The flop comes Ah-2d-5c, giving you the nut straight. This is your dream flop, as not only did you flop the nut straight, but there is a very high likelihood that somebody is holding an Ace. Given the pre-flop action, it is almost certain that you will be getting your money into the middle against at least one player, maybe more.
--
Recent Articles That Include The Term
Suited Connector
:
De La Hoya / Mayweather Jr. Fight Brings Rich "Fish" To the Las Vegas Poker Tables
Back to the -
Poker Dictionary