Daniel "Jungleman12" Cates Has Dominated in 2010
Published on December 22nd, 2010 9:15 am EST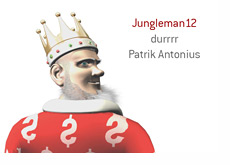 With just days remaining in December, it now appears as though Daniel "Jungleman12" Cates is safely on his way to securing the title of most profitable cash game player on Full Tilt Poker in 2010.
There have been a number of players who have made names for themselves in the poker world in 2010, but Daniel Cates has probably made the biggest splash.
Through December 20th, "jungleman12" has accumulated an impressive $4,764,766 in total cash game profits on Full Tilt Poker (source: HighStakesDB.com). This puts him nearly $1 million ahead of Andreas "skjervoy" Torbergsen, who has made $3,778,763 on FTP so far this year.
Both Tom "durrrr" Dwan (+$3,662,069) and Phil Ivey (+$3,002,798) have had strong years on Full Tilt, but neither player is likely to catch Cates over the last 10 days of the year.
--
"jungleman12", who was literally working at McDonald's just three short years ago, burst onto the high stakes scene in May, finishing as the month's most profitable player on FTP with a total profit of $1,274,434. Cates followed May up with strong performances in August (+$1.1 million), October (+$608k) and November (+$670k). "jungleman12" had arrived.
The rapid climb for Cates didn't stop there. "Jungleman12" would gain even more notoriety after agreeing to take on Tom Dwan in the second "durrrr Challenge". "Jungleman12", who had been playing $0.25/$0.50 just a few short years ago, was now battling Tom Dwan for millions of dollars in a very high-profile match in front of the entire poker world.
Although the "durrrr Challenge" has likely moved slower than he would have liked, Cates can't complain about the results so far. After a total of 14,190 hands, Cates is currently up $500,783.50 on Dwan. If Cates ends up besting "durrrr" in this challenge, then he will add an additional $1.5 million to his bankroll.
--
In short, it has been quite a year for Daniel Cates.
Can "jungleman12" continue his success in 2011?
Source:
HighStakesDB.com
--
Filed Under:
Cash Games