Galen Hall Wins $2.3 Million in PCA Main Event
Published on January 16th, 2011 5:09 am EST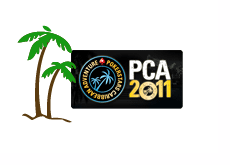 After a marathon final table that stretched into the early hours of Sunday morning, Galen Hall walked away with the 2011 PCA (Pokerstars Caribbean Adventure) main event title and $2.3 million.
Despite entering the final table with a massive chip lead, and despite having Galen Hall on the ropes during heads-up play, Chris Oliver wasn't able to close the deal and ended up finishing in second place for a very respectable $1.8 million.
Galen Hall was second in chips when the final table got underway on Saturday afternoon, but he was still far behind the monstrous stack of Chris Oliver. Oliver entered the final table with a stack of nearly 20 million chips, which was roughly 42% of all of the chips that were in play. Galen Hall was far behind with a stack of around 6.43 million.
The final table participants were dispatched one by one, leaving only Hall and Oliver to battle it out for the crown.
At one point during heads-up play, Oliver had a 37 million to 9.5 million chip lead and appeared to be cruising towards victory.
One of the key hands of the heads up battle saw Hall push all-in on a board of Jd-9s-Th-6c-9d. Prior to this hand taking place, Oliver had 37 million in chips, while Hall had 9.5 million. After a bit of thought, Oliver decided to call Hall's all-in move on the river. The two players turned up:
Oliver: 8d-6h
Hall: pocket Queens
Hall received a key double-up thanks to this hand and was able to reverse Oliver's momentum.
Another key hand came a short while later when the two players got their stacks into the middle of the table after a flop of 2c-4h-As. The two players turned up:
Oliver - 4s-2s
Hall - Ad-2h
Both players had flopped two pair, but Hall had flopped a better two pair. The better hand held up, and the two players were now virtually even in chips.
The decisive hand of the heads-up battle came just five minutes later when Hall and Oliver elected to get their stacks into the middle pre-flop. The two players turned up:
Oliver - Ah-9s
Hall - pocket Kings
The board ran out 8h-3d-7d-4s-Qh, and Oliver's once-monstrous stack had now been reduced to almost nothing.
The final hand of the tournament took place at around 3 am local time. Oliver committed the last of his short stack pre-flop, and the two players turned over:
Hall - Ac-8c
Oliver - pocket Queens
The board ran out As-Kd-8s-2h-Ks, giving Galen Hall 2-pair and the $2.3 million first place prize.
--
Here is how the final table ended up finishing out on Saturday:
1. Galen Hall, $2,300,000
2. Chris Oliver, $1,800,000
3. Anton Ionel, $1,350,000
4. Sam Stein, $1,000,000
5. Mike Sowers, $700,000
6. Bolivar Palacios, $450,000
7. Max Weinberg, $300,000
8. Phillipe Plouffe, $202,000
The 1,560 player turnout ended up creating a total prize pool of $15,132,000, with the top 232 spots paying out.
Congratulations to Galen Hall, winner of the 2011
Pokerstars
Caribbean Adventure main event.
--
Filed Under:
Tournament Results