"CuteIsWhatIAim4" Walks Away With $408k+ After Chop
Published on February 15th, 2011 9:21 am EST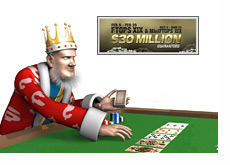 Another multi-entry FTOPS event, another massive prize pool.
"CuteIsWhatIAim4" took down FTOPS #27 ($1,000+$60 NLHE Multi-Entry) earlier this morning, collecting over $408k in the process.
"KirbyNator", who took down the FTOPS XVI main event in May of 2010, finished in second place for $371,671.72.
First place prize money in the event was originally $473,367.95, but "CuteIsWhatIAim4" and "KirbyNator" agreed to a chop shortly after their heads-up battle began.
Here is how the final table ended up finishing out:
1. "CuteIsWhatIAim4", $408,068.23
2. "KirbyNator", $371,671.72
3. Joao Barbosa, $227,458
4. "YrrsiN", $171,754
5. "D1rtyR1v3r", $120,692
6. "Avril Sharapova", $78,914
7. "GamePurgerRiot", $53,383
8. "Cesar_Spain", $37,136
9. "Firaldo87", $27,852
--
The prize pool for FTOPS #27 ended up at $2,321,000, more than tripling the guarantee of $750,000.
Thanks to the multi-entry format, players were allowed to purchase a maximum of four entries. Many players took full advantage and bought in four times, which ended up resulting in a 2,321 entrant field that produced a total prize pool of over $2.3 million.
--
Filed Under:
Tournament Results