"LeonP" Leads FTOPS #40 Heading Into Day 2 on Sunday
Published on February 20th, 2011 1:44 am EST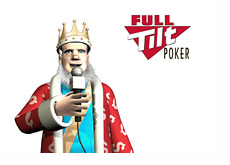 Day 1 of FTOPS #40 ($2,000+$100 NLHE) wrapped up just a few hours ago, with 91 of the original 1,036 entrants making it through to Day 2 on Sunday.
At the top of the leaderboard heading into Day 2 is "LeonP", who managed to finish the first day of play with nearly 190k in chips. "Lacibaby64" (184k), "Daheh" (163k), "Chances Cards" (161k) and "darkfedor" (156k) also managed to finish with stacks in excess of 150k.
As mentioned, 1,036 players turned out for this event, which ended up creating a total prize pool of $2,072,000 (the tournament had a $2 million guarantee).
All of the remaining 91 players in this event are guaranteed a minimum of $3,522.40 for making it this far, with the eventual winner of the event set to take home $432,012.
--
There are a number of recognizable names that are still alive in this event, including:
James "P0KERPR0" Campbell, 149k
Andrew Black, 72k
Isaac Baron, 47k
Erica Schoenberg, 40k
Carlos Mortensen, 34k
Matt Hawrilenko, 27k
Steve "MrSmokey1" Billirakis, 23k
John Racener
, 21k
Mark "newhizzle" Newhouse, 20k
Allen Cunningham,
David Benyamine
, Erick Lindgren and Huck Seed were some of the notable names who were unable to make it through to the final day of play on Sunday.
--
The tournament will resume at 14:00 ET on Sunday afternoon.
--
Filed Under:
Tournament Results