"GIAMPP" Wins Main Event, But "blur5f6" Walks Away As The Big Winner
Published on February 21st, 2011 8:26 pm EST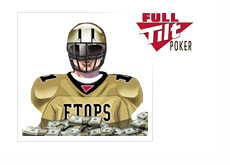 "GIAMPP" outlasted a massive 14,479 entrant field to take down the FTOPS XIX main event early Monday morning. For his victory, "GIAMPP" walked away with $877,949.74 and the FTOPS XIX main event title.
A deal was agreed to during three-handed play that saw the eventual second-place finisher, Blair "blur5f6" Hinkle, walk away with the largest payday ($1,162,949.74). "SirMad", who ended up finishing in third place, took home $805,440.26.
The FTOPS XIX main event was a "multi-entry" event, meaning that each player was able to purchase up to six entries. Many players took full advantage, which ended up creating a massive field of 14,479 "entrants" and a total prize pool of $8,687,400. This figure easily topped the $3 million in prize money that was being guaranteed by Full Tilt Poker.
The victory by "GIAMPP" is made even more impressive by the fact that he only had a single entry in the tournament. Itís one thing to successfully navigate through a shark-infested field when everybody is only allowed to buy in once - itís another thing altogether when many of the professional players in the field have purchased five or six entries.
The "multi-entry" format ended up being a major hit for
Full Tilt Poker
, as the 14,479 entrant field ended up generating nearly $600k in tournament fees for the company (not including any money that was generated from main event satellites). You can safely assume that future FTOPS main events will also allow multiple entries.
--
Here is how the FTOPS XIX main event final table ended up finishing out:
1. "GIAMPP", $877,949.74
2. "blur5f6", $1,162,949.74
3. "SirMad", $805,440.26
4. "Nayza", $451,744.80
5. "WiLDmAn75", $321,433.80
6. "J NOCK", $230,216.10
7. "425wedabest", $165,060.60
8. "beerocrat", $121,623.60
9. "Colonel Mustard", $86,005.26
--
Filed Under:
Tournament Results