"Isildur1" Takes Over $600k From Scott "urnotindangr" Palmer
Published on February 28th, 2011 2:41 am EST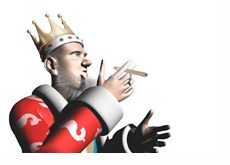 It's been a couple of very good days for Viktor "Isildur1" Blom as the Swedish phenom continues his rush on Pokerstars.
An epic session just finished between "Isildur1" and Scott "urnotindangr" Palmer on Pokerstars.
According to HighStakesDB.com, Blom ended up $619,165 over the course of the 747 hand session. Combine that with his +$343k session against Daniel "w00ki3z." Cates (aka "jungleman12") earlier in the week, and Viktor Blom is on a serious roll right now.
Blom and Palmer battled it out over 4 $50/$100 Pot Limit Omaha tables. The session was completely one-sided, and by the time that Palmer decided that he had had enough, "Isildur1" had nearly $1 million spread out over the four tables. From what I saw, Blom had stacks of roughly $217k, $338k, $110k and $238k when Palmer finally decided to quit.
Palmer made the decision to quit after this hand took place:
Seat 1: Isildur1 ($302244.10 in chips)
Seat 2: urnotindangr ($36295.80 in chips)
Isildur1: posts small blind $50
urnotindangr: posts big blind $100
*** HOLE CARDS ***
Isildur1: raises $200 to $300
urnotindangr: raises $600 to $900
Isildur1: raises $1800 to $2700
urnotindangr: raises $5400 to $8100
Isildur1: calls $5400
*** FLOP *** [9c 8s 2s]
urnotindangr: bets $16199.50
Isildur1: calls $16199.50
*** TURN *** [9c 8s 2s] [8d]
urnotindangr: bets $11996.30 and is all-in
Isildur1: calls $11996.30
*** RIVER *** [9c 8s 2s 8d] [2d]
*** SHOW DOWN ***
urnotindangr: shows [4d Ad As 3h] (two pair, Aces and Eights)
Isildur1: shows [7d 5d Jc 2c] (three of a kind, Deuces)
Isildur1 collected $72591.10 from pot
Scott "
URnotINdanger
" Palmer quit a few hands later.
--
After a number of ups and downs over the past few years, Viktor "
Isildur1
" Blom has a million dollar bankroll once again.
The next few weeks and months are going to be very interesting..
Source:
HighStakesDB.com
--
Filed Under:
Cash Games