Andrew Li Becomes "Supernova Elite" In Less Than 60 Days
Published on March 2nd, 2011 4:01 am EST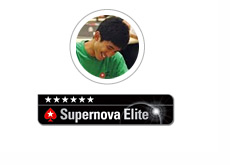 According to Pokerstars, Andrew "azntracker" Li has broken the record for being the fastest person to reach "Supernova Elite" status.
According to Li, he played a total of 50 days during the first two months of 2011 to break the record. The existing record had been held by George "
Jorj95
" Lind, who reached "Supernova Elite" status on March 18th, 2008. Li was able to easily best this mark, despite the fact that he took off nine days in January and February.
According to Li's blog (link below), he ended up playing a total of 14,183 SNGs en route to claiming "Supernova Elite" status. His average ROI in these SNGs was 0%. Sharkscope.com has Li as having played 83,387 SNGs during his time on
Pokerstars
for a total profit of $240,809 (average stake of $177).
Li fended off a couple of hard-charging challengers, most notably
Viktor "Isildur1" Blom
, to become the fastest ever player to reach "Supernova Elite" status on Pokerstars.
--
Andrew "
azntracker
" Li posted some interesting stats on his blog regarding his short and arduous journey to achieving "Supernova Elite" status:
SNGs played: 14,183, Avg ROI: 0%
# of days played: 50 out of 59 (84.75%)
# of days >25,000 VPP: 13
# of days >10,000 VPP: 48
VPPs in Jan (including 50k WSOP bonus): 398,682
VPPs in Feb: 602,086
VPP Milestones achieved in February: 6
Lowest VPP session: 7,326 on Jan 1st (lol lazy)
Highest VPP session: 35,167 on Feb 18th
VPPs in last 15 days: 425,954 (28,397/day)
Top 3 profit days: +12,732, +9,880, +8,444
Top 3 loss days: -17,511, -12,860, -9,414
Left-mouse clicks in 2011: 1,172,167
The 14,183 SNGs means that Li played an average of nearly 300 SNGs per day (14,183 / 50 Days).
--
Li plans to celebrate his accomplishment by taking a few days off and then getting back on his grind.
Source:
Andrew Li Blog
--
Filed Under:
Online Poker Rooms