"XWINK" Down to $600k Profit After Torrid Start to March
Published on March 16th, 2011 5:21 am EST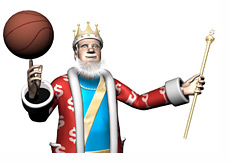 "XWINK" has provided plenty of entertainment to high stakes cash game railbirds in March, taking on practically everyone on Full Tilt Poker and making (temporarily, anyways) millions of dollars in the process.
"XWINK" is rumored to be the same player as "XBLINK" on Ultimatebet/Cereus. In 2009, "XBLINK" went on a ridiculous run on UB, winning an $11 tournament for $700 and then running this amount up to $1.3 million over the course of just a few short months. People were baffled by his incredible run, mainly due to the fact that nobody thought that he was a particularly good player. There were even whispers that "XBLINK" was cheating.
Unlike other players who go on huge runs only to end up giving it all back, "XBLINK" was smart enough to walk away with most of his profits intact. According to PTR, "XBLINK" is a lifetime $1.13 million winner on the Cereus network.
--
Fast forward to 2011.
"XWINK" reportedly made a $4,000 deposit on Full Tilt Poker and ran it up to $2 million in "just four days".
"XWINK" then dropped $1.2 million in just one day playing against players such as "NoPasaran" and Daniel "
jungleman12
" Cates.
After losing over seven figures in just one day, "XWINK" reportedly decided to withdraw $500k so that he didn't lose that too.
--
So that's where we stand right now in regards to "
XWINK
".
Will the young Canadian player keep doing battle on Full Tilt Poker and "entertaining us all", or will he disappear once again, only to turn up in another couple of years for another legendary run?
We'll soon find out..
Source:
HighStakesDB.com
--
Filed Under:
Cash Games