Sowers Manages to Make the Final Table - Twice
Published on March 29th, 2011 8:38 am EST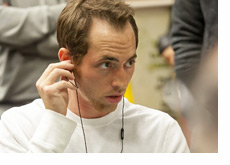 Mike "SowersUNCC" Sowers turned in a performance for the ages Monday night, finishing in both 1st and 9th place in the $1k Monday $2 Million on Full Tilt Poker.
The $1k Monday is a multi-entry tournament - players are allowed to buy in up to six times. Sowers, along with many other participants in the event, elected to buy in the maximum number of times.
Tonight's $1k Monday had an especially large prize pool ($2,404,000) thanks to Double Guarantees week on Full Tilt Poker. The tournament ended up receiving a total of 2,404 "entrants".
--
As the tournament field was whittled down to just a few tables, it became apparent that Mike Sowers was on the verge of accomplishing something special.
Sowers still had two of his entries left in the tournament when the field was down to just 11 entrants. One of his entries had been on the verge of being eliminated, but Sowers was able to receive a key double-up to stay alive at both tables.
After a brief Full Tilt Poker outage, the tournament resumed at 6 am EST. Would Sowers be able to get both of his remaining entries to the final table?
The answer was yes. Sowers had his two stacks merged, giving him a stack of over 3.3 million when the final table got underway. Sowers received 9th place money ($28,848) for his smaller stack, per multi-entry rules on Full Tilt Poker.
"SowersUNCC" kept his momentum going at the final table, eventually disposing of "KagM7F7" in second place to take down the $490,295 first place place. In total, Mike Sowers walked away with well over $500,000 in total prize money (1st place plus 9th place).
--
Congratulations to Mike Sowers on an amazing performance..
Photo: GreasieWheels.com
--
Filed Under:
Tournament Results