Published on April 20th, 2007 6:52 pm EST
The fifth $25,000 World Poker Tour Championship starts on Saturday, and it should be one of the biggest poker tournaments ever. Any worries that the turnout to the main event might be down should be squashed, as event organizers are expecting a much larger turn-out than the 605 people who entered the event last year. Preliminary estimates are calling for a field of about 800 entrants, which should create a first prize of over $5 million dollars.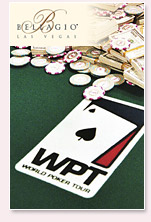 You can expect all of the big names to turn out for this event, as they are lured by the high payouts and relatively low numbers of entrants. Last year's winner, Joe Bartholdi, will be back to defend his crown, and try to improve upon the $3.7 million haul he took in last year.
Based on the number of people that have played the preliminary events, the Bellagio and WPT are expecting higher numbers for the main event than last year. All of the big names will be out for this one, including Daniel Negreanu, Phil Ivey, and various online poker phenoms such as "Imper1um" and "Wacokidd."
Action gets under way on Saturday, and a winner will be crowned by next Friday.
--
Filed Under:
Tournament Results