"Ingenious89" Makes $1.7 Million+ in April
Published on April 30th, 2011 3:12 pm EST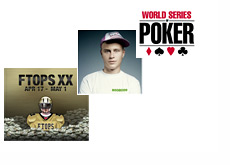 1. FTOPS XX Main Event.
With all of the craziness of the last two weeks, you might have forgotten that the FTOPS XX main event is taking place on Full Tilt Poker this weekend.
As a matter of fact, there are six FTOPS events taking place over the next two days. They are:
Event #40 - $2,000 + $100 NLHE Ante From Start ($1,000,000 Guarantee)
Event #41 - $100 + $9 NLHE Rush Rebuy ($300,000 Guarantee)
Event #42 - $500 + $35 NLHE Heads Up ($200,000 Guarantee)
Event #43 - $200 + $16 Badugi Limit ($20,000 Guarantee)
Event #44 - $240 + $16 NLHE 6-Max Knockout Multi-Entry ($750,000 Guarantee)
Main Event - $600 + $40 NLHE Multi-Entry ($2,500,000 Guarantee)
Event #40 is a two-day event and will wrap up on Sunday afternoon. There are currently 335 players registered in this event (it just started), which virtually guarantees that there will be a massive overlay. Late registration is available for the first eight levels of the event.
The FTOPS XX main event gets underway at 16:55 ET on Sunday afternoon.
2. "Ingenious89" Blogs About "The Month of My Career".
Two players have made over a million dollars on Full Tilt Poker so far in April.
The first?
Patrik Antonius
, who has been able to take advantage of the absence of names such as
Phil Ivey
and
Tom Dwan
to make himself over $2.3 million.
The second player in the seven figures club this month on Full Tilt? Jens Kyllönen, aka "Ingenious89".
According to
HighStakesDB.com
, "Ingenious89" has made $1,278,475 on Full Tilt Poker so far this month.
According to Kyllönen's most recent blog posting, his total April numbers have been even better than that.
Based on screenshots that he posted, Kyllönen is up $1,730,953.51 so far in April over a total of 45,004 hands. Kyllönen talks about his epic million dollar session that took place in late April on his blog, and also posts some of his hands from the session. Kyllönen also points out that he had posted a "very nice upswing at 25/50 of around 300k" before his massive million dollar session.
You can read his blog here
.
3. The World Series of Poker Starts in Less Than One Month.
Lost in all of the craziness of the last two weeks is the fact that the 2011 World Series of Poker is set to get underway in less than one month.
Thanks to "Black Friday", this year's World Series of Poker is set to be one of the most interesting in recent memory.
What kind of a turnout will there be for the main event this year? Will names such as Howard Lederer and Chris "Jesus" Ferguson show up? How much of a presence (in terms of patches, etc) will Pokerstars and Full Tilt Poker have at the event?
These are definitely interesting times that the online poker industry is going through right now, and it will be interesting to see the impact of "Black Friday" on this year's World Series of Poker.
--
Filed Under:
Cash Games
|
Online Poker Rooms
|
UIGEA