"ArielBahia" Takes Home $347k After Chop
Published on May 2nd, 2011 2:16 pm EST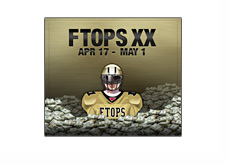 "ArielBahia" outlasted thousands of other players to take down the FTOPS XX main event on Sunday. After a four-way chop, "ArielBahia" walked away with $346,696.49.
In terms of total $, "Towelfish" walked away as the big winner yesterday, as he was able to take home $366,792.88 as a result of the chop. "WHOPPWHOPP" finished in third place ($279,393.51), while "paranoik333" finished in fourth ($288,774).
This was
Full Tilt Poker
's first FTOPS main event since "Black Friday". The main event, which had a $2.5 million guarantee, ended up with a total prize pool of $2,799,600. The main event allowed multiple entries, which obviously helped to push the total prize pool over the guarantee. The winner of the event, "ArielBahia", purchased a total of six entries.
"AlGooohr" enjoyed a strong run as well on Sunday, as he was able to reach the final three tables of the tournament with two of his entries still alive. However, "AlGooohr" failed to reach the final table, as one of his entries ended up finishing in 11th place, while another ended up finishing in 23rd.
Some of the "red" pros who ended up turning out for the main event were:
Andrew Black
Petter Jetten
James Dempsey
Many of Full Tilt's sponsored pros, including names such as Allen Cunningham and Chris Ferguson, were unable to play in the FTOPS main event thanks to US players being banned from real money play on the site.
--
In other news from the FTOPS, "FLIPokeHer" ended up taking down the $2,100 2-Day NLHE event on Sunday for $195,000. "FLIPokeHer" and "AverageHoe" worked out a deal while heads-up, which resulted in "FLIPokeHer" taking home $195k and "AverageHoe" walking away with $234,300.
Shawn Buchanan, a "red" Full Tilt pro, ended up finishing in sixth place for $50,350.
--
Filed Under:
Tournament Results