Absolute Poker Reportedly Reaches Agreement with US Government
Published on May 11th, 2011 12:02 am EST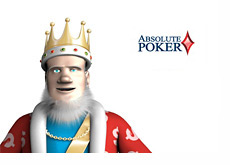 According to a press release that was circulated earlier today, AP/UB (now apparently just known as "Absolute Poker") has reached an agreement with the US government.
According to the press release, "the US Attorney's Office has agreed to provide all necessary assurances that third parties may work with Absolute Poker to facilitate the return of funds, currently held by third party processors, to players located in the US".
It's important to note that the press release claims that this is an "important step to returning US player funds" - it's just a "step", so if you are waiting on UB/AP funds, I wouldn't hold your breath.
When Pokerstars and Full Tilt Poker announced their agreements with the United States Attorney's Office for the Southern District of New York, they were both granted use of their domain names as part of the deal. According to the press release that was circulated earlier today, Absolute Poker has "not requested the return" of www.absolutepoker.com, www.ultimatebet.com or www.ub.com.
Similar to the Pokerstars and Full Tilt Poker deals, Absolute Poker has agreed to halt real money play from the United States. In addition, an approved Monitor will be assessing "the Company's compliance with the terms of the agreement".
--
In regards to when balances might become available to US players, Absolute Poker had this to say:
"The Company still faces several legal issues which must be navigated before funds can be paid out to US players".
and
"Players funds, therefore, will not become immediately available for withdrawal as a result of today's agreement with the DOJ".
--
It would be absolutely awesome if Absolute Poker ended up paying out their US players, but seeing will be believing in this case.. I stopped giving UB/AP the benefit of the doubt a long time ago.
Source:
Absolute Poker Reaches Agreement With US Department of Justice
--
Filed Under:
UIGEA
|
Poker Legal Issues