Lederer Settles Civil Suit
Published on December 19th, 2012 7:54 pm EST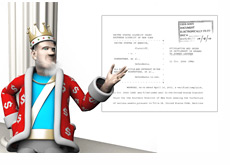 Howard Lederer has settled his civil suit with the US government.
According to the settlement (see link below), which was signed by Judge Kimba M. Wood on December 17th, Lederer will get to keep his palatial Las Vegas mansion, most of his vehicles (including a 2008 Audi Q7, a 2008 Audi A8L, a 2009 Audi A8 and a 2012 Audi A8-L) and an unspecified amount of cash.
What Lederer WILL have to forfeit includes:
-money in Lloyds 0402 account
-money in LPL Financial Accounts
-Lederer's Shelby Cobra
-Lederer's Kingsclear property
-$30,000 in USD, traceable to sale of his Fawn Chase property
-any proceeds traceable to the sale of Lederer's Twin Palms property
As part of the settlement, Lederer also agrees to the entry of a civil money laundering penalty judgment in the amount of $1.25 million. Lederer gets 18 months to pay the first $500,000 and an additional 18 months to pay off the $750,000.
As part of the settlement, Lederer also agrees to not to work for or derive money from any internet gambling business in the United States, until the laws regarding online gambling change in the country.
The settlement also states that the "Stipulation and Order of Settlement shall in no way be deemed an admission of culpability, liability, or guilt on behalf of Lederer."
--
Given that the United States initially wanted $42.5 million from Lederer, I'd say that Howard made out pretty well with his settlement deal. He keeps an unspecified amount of cash, four of his vehicles and an assortment of properties in Las Vegas.
So, Lederer has now settled - is Chris Ferguson next?
Source: Justia.com -
United States v. Pokerstars, et all
--
Filed Under:
UIGEA
|
Poker Legal Issues