Who Is Dominating in a Post-Full Tilt Poker Landscape?
Published on July 29th, 2011 1:51 am EST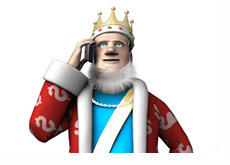 For years, Full Tilt Poker was the home of the biggest online cash games. The site kept adding tables with higher and higher stakes, and the games progressively got bigger and bigger. Names such as Phil Ivey, Patrik Antonius and Tom "durrrr" Dwan called the site home, and they helped to attract players who wanted to play against the very best in the world.
On June 29th, 2011, the cash games on Full Tilt Poker (along with everything else) came to a crashing halt after the AGCC suspended the site's various licenses.
As a result, all of the high stakes cash game action moved to other sites, most notably Pokerstars. Some of the American high stakes regulars, such as Cole South and Phil Galfond, have temporarily moved to Canada in recent weeks, which has allowed them to return to playing poker on Pokerstars. This has given the games quite a shot in the arm over the past month or so, and there has been quite a bit of action as of late.
So who is winning and who is losing on Pokerstars since June 29th? Let's take a look.
The five biggest winners on Pokerstars since June 29th are:
"Skjervoy", +311k
"Isildur1", +310k
"mTw-Davin", +297k
"verve.oasis", +242k
"kabutze", +228k
"
Isildur1
" has been on a rampage over the past week or so, as he has played a total of 37,000 hands on Pokerstars over the past seven days. "Isildur1" has attracted a crowd on Pokerstars, and the high stakes cash games have been running almost constantly on the site as a result.
The five biggest losers on Pokerstars since Full Tilt Poker shut its doors are:
"Ilari FIN", -283k
"nasud 11", -159k
"V. Wahlbeck", -151k
"MamaOsa55", -148k
"PepperoniF", -139k
"
Ilari FIN
", as you are likely aware, is Ilari Sahamies, aka "Ziigmund" on Full Tilt Poker. Sahamies has been grumbling about his luck as of late, and the last month won't make him feel any better.
--
Between the signing of "Isildur1" and Full Tilt Poker's shutdown, Pokerstars has become a hive of high stakes action as of late.
Source:
HighStakesDB.com
--
Filed Under:
Cash Games