First-Ever Epic Poker League Final Table to Include Erik Seidel, Huck Seed
Published on August 12th, 2011 4:44 am EST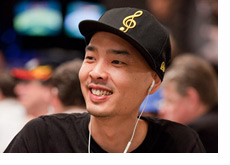 David "Chino" Rheem has been one of the favorite topics of discussion on the TwoPlusTwo forums as of late.
A number of notable pros, including Ben Lamb, Joseph Cheong, Will Molson and others, have come forward to post stories about how they were allegedly "scammed" by David "Chino" Rheem.
In a thread titled "Chino Rheem SCUM part two (more scams)", Molson told a story about how he was taken for $40k by Rheem. Later in the thread, Joseph Cheong chimed in to say that he was also owed $40,000 by David "Chino" Rheem.
You can read the thread here
.
The Rheem story flamed up right before the first-ever Epic Poker League event got underway in Las Vegas. Rheem was one of the participants and ended up making a very deep run in the event.
There are currently six players left in the first-ever EPL heading into the final table. They are:
Hasan Habib, 1,655,000
Jason Mercier, 1,495,000
Chino Rheem, 1,432,000
Erik Seidel, 1,109,000
Gavin Smith, 766,000
Huck Seed, 396,000
All six players are guaranteed a minimum of $107,980 for making it through to the final table, with the eventual winner receiving $1,000,000.
--
Earlier tonight, Tony Dunst took to his Twitter account to say what many people in the poker world were thinking..
"Over/under on the amount of people that walk @Chinorheem to the cage after the Epic Poker event finishes?"
The final table will get underway at 2 pm (local time) on Friday afternoon..
--
Filed Under:
Tournament Results