Ilari Sahamies Returning to Form
Published on August 14th, 2011 2:21 pm EST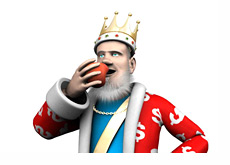 1. "Chino" Rheem Wins First EPL Event.
Early Saturday morning, David "Chino" Rheem defeated Erik Seidel to become the winner of the very first Epic Poker League event. Rheem ended up walking away with $1 million, while Seidel took home $604,330 for his second place finish.
Rheem had been the subject of much discussion on TwoPlusTwo prior to and during the first EPL event. A number of notable pros, including Will Molson, Ben Lamb and Joseph Cheong, had taken to Twitter and TwoPlusTwo to talk about how Rheem had "scammed" them each out of thousands of dollars.
Well, thanks to his million dollar score, Rheem was able to make good on at least some of his debts. According to Ben Lamb's Twitter account:
"Omg Chino won 1m and paid me my money ( most people got 10% paid) I got all. #hardass"
Some other notes from the event:
-the final table was one of the toughest in recent memory, as it consisted of Rheem, Erik Seidel, Jason Mercier, Hasan Habib, Gavin Smith and Huck Seed
-Erik Seidel now has over $16.6 million in total lifetime tournament cashes, with over $6 million of that coming during the first eight months of 2011
-the first Epic Poker League event was very well-received by players, with many taking to Twitter to compliment tournament organizers
2. Rui Cao, Ilari Sahamies Leading August Cash Game Leaderboard.
With Full Tilt Poker closed, the days of talking about which cash game players are up or down 7 figures for the month may be over for the foreseeable future.
Through the first 12 days of August, Rui "PepperoniF" Cao and Ilari "Ilari FIN" Sahamies are both up over $300k on Pokerstars. Cao, who played "Isildur1" in the "Superstar Showdown" earlier in the year, is up over $358k, while Sahamies is up over $320k. Sahamies has been struggling in recent months, so this current upswing is surely a nice boost to his confidence.
Other players who are doing well in August so far include:
"Deldar182", +222k
"verve.oasis", +203k
"Theo J", +149k
The list of the biggest August losers is led by Viktor "Isildur1" Blom, who is currently down nearly $300k for the month. "moirhums" (-262k), "LuckyGump" (-227k), "Sauce123" (-147k) and Terken89 (-131k) have also suffered 6 figure losses in August as well.
3. Negreanu vs the EPL.
On August 11th, Daniel Negreanu posted a blog titled "Why I Didn't Play the EPL". In the posting, Negreanu gave his list of reasons as to why he wouldn't be participating in the Epic Poker League (minus, of course, the fact that Annie Duke is intimately involved in the organization).
You can read the posting here.
A number of pros weren't too happy with Negreanu's post and let him know via Twitter:
Amit Makhija - "@RealKidPoker your obsession with the EPL is borderline creepy we get it you have a personal vendetta. Some of us like overlays + freerolls"
Dan O'Brien - "Negreanu's blog about why he skipped Epic is pretty wild - incredibly spiteful tone. Sorry I wanted to play in great tourney #coolstorybro"
David Bach - "Just Read @RealKidPoker blog about @EpicPokerLeague. A shame. While he makes some very valid points, I don't know why he wants to use his Very public position to slam a league that offers such a great opportunity to us as players. Through hard work and good timing @RealKidPoker Has been fortunate to make a lot of extra money outside his super tournament results. Why try to hurt the rest of us having that opportunity"
--
Source:
HighStakesDB.com
--
Filed Under:
Cash Games
|
Tournament Results
|
Other Poker News