Galfond Takes Large Chunk of Blom's Bankroll
Published on August 21st, 2011 2:19 pm EST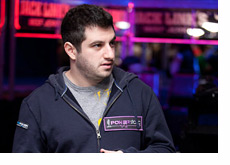 Earlier this summer, Phil Galfond (known as "OMGClayAiken" on Full Tilt Poker and "MrSweets28" on Pokerstars) decided to set up shop in Vancouver, British Columbia, Canada so that he could resume his career as an online poker player.
On August 17th, Galfond posted a blog on Bluefirepoker.com (link below) titled "Canada is Good Luck". In the blog posting, Galfond revealed that he was up over $600k since making his return to Pokerstars.
Galfond's stretch of strong results continued yesterday after doing battle with Team Pokerstars Pro member Viktor "Isildur1" Blom.
Prior to his battle with Galfond, Blom had been on one of his traditional heaters. According to HighStakesDB.com, "Isildur1" was up nearly $480k on Pokerstars from August 1-20 (over a total of 17,201 tracked hands).
Over the past 48 hours, "Isildur1" has been a flurry of activity on Pokerstars. At one point, "Isildur1" had a total of well over $500k spread out over the various tables that he was playing on.
By the time that he ended his session early this morning, "Isildur1" was down to just 1 table and around $9,000.
Galfond, who clearly has Blom's number, is currently up $506,157 over the past 24 hours according to HighStakesDB.com.
Viktor "Isildur1" Blom, on the other hand, is currently down $474,822 over the same time period.
--
Thanks in large part to "Isildur1", Galfond is up roughly $1 million since making the move to Vancouver.
Source:
HighStakesDB.com
Source:
Phil Galfond's Blog
Photo: GreasieWheels.com
--
Filed Under:
Cash Games