"KidPoker" Resurfaces on Pokerstars
Published on August 25th, 2011 11:46 pm EST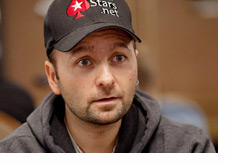 After "Black Friday" took place back in April, many poker players found that their ability to make money online (and make their livings online) had suddenly been taken away from them.
For players living in the United States, Full Tilt Poker and Pokerstars were no longer viable options as these rooms were forced to close their doors to people residing in the "land of the free". This development forced a number of high profile players to set up shop in countries such as Canada, Costa Rica and Thailand in order to continue their poker careers.
Over the past few months, names such as Cole South and Phil Galfond have moved to foreign soil in order to return to Pokerstars.
Earlier this week, Daniel "KidPoker" Negreanu also resurfaced on Pokerstars after a multi-month absence.
For Negreanu, this move was a no-brainer.
To start, "
KidPoker
" is a Canadian citizen (he was born in Toronto, Ontario), so setting up shop in Canada was a snap. No interrogations at the border, and he can stay as long as he wants.
In addition, Negreanu is the face of Pokerstars, so you know that the site was itching to have him return to online action, especially given the fact that the WCOOP is just around the corner. Pokerstars pays millions of dollars to Negreanu every year, and it doesn't make sense to have one of their biggest assets sitting on the sidelines, unable to play.
According to his blog, Negreanu has set up shop in Toronto.
--
Negreanu had a few words of wisdom for US players who are currently shut out of online poker and might be wondering what to do:
"For those of you who can, I really suggest moving out of the United States of America to a country that will allow you the freedom to play poker in your underwear. Canada is a great option, but you could go pretty much anywhere in the world that suits your fancy."
and
"Seriously, if you really want to make a good living playing poker, it's time to think about moving to a country that will allow you to do so. If things ever change in the U.S. you can always move back, but at this point, just like being relocated in a "normal" job, you've been relocated to any "office" you want outside of the United States of America."
--
Negreanu is happy to be back, and Pokerstars is surely happy that Negreanu is back as well.
Source: FullContactPoker.com -
Boy Did I Miss Online Poker!
Photo: GreasieWheels.com
--
Filed Under:
Online Poker Rooms
|
Other Poker News