Viktor "Isildur1" Blom Up $1.4 Million in Last 48 Hours
Published on August 27th, 2011 8:17 pm EST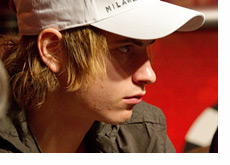 Back in 2009, Viktor "Isildur1" Blom captivated the online poker community during a multi-month run on Full Tilt Poker that saw him win (and lose) millions of dollars.
"Isildur1" was aggressive. "Isildur1" played ridiculously long sessions on multiple tables.
And, best of all, "Isildur1" was fully prepared to engage against the very best players in the world. Tom "durrrr" Dwan. Patrik Antonius. Phil Ivey. "Isildur1" wasn't afraid to battle poker's top players, and this instantly earned the Swedish phenom the respect of many in the online poker community.
In December of 2009, the runaway "Isildur1" Express came to a crashing halt, thanks in large part to a crippling $4 million downswing that came at the hands of Brian Hastings. "Isildur1" would return to Full Tilt Poker sporadically after that, but the magical run definitely came to an end in December of 2009.
--
Fast forward to August of 2011. "Isildur1", now a full-fledged member of "Team Pokerstars Pro", is at it again.
Over the past 48 hours, Viktor Blom is up nearly $1.4 million on Pokerstars.
Much of this money came from Ilari "Ilari FIN" Sahamies' bankroll. Sahamies had been running very well on Pokerstars in August - according to HighstakesDB.com, Sahamies had been up nearly $1.3 million on Pokerstars from August 1-26th.
Unfortunately for Sahamies and his bankroll, "Isildur1" was running very hot today, and Sahamies was not.
This hand pretty much sums up the action for Sahamies today:
$100/$200 PLO
"Isildur1" with around $443k in his stack, "Ilari FIN" with $43k
After some pre-flop raising, there is over $32k in the middle when the flop comes:
Th-As-Qh
"Ilari FIN" bets the last of his stack ($26,488) and "Isildur1" calls. They turn over:
"Ilari FIN" - Ac-5h-Ad-8d
"Isildur1" - 6h-4s-7c-3h
"Ilari FIN" has a set of Aces, while "Isildur1" has a heart flush draw.
The board runs out:
9s-Jh
and "Isildur1" takes down the pot with his flush.
--
You can safely assume that "Isildur1" will be putting in a ton of hands on Pokerstars over the next couple of days/weeks as he tries to extend his rush.
Source:
HighStakesDB.com
Photo: GreasieWheels.com
--
Filed Under:
Cash Games