Full Tilt Poker Hearing Set To Resume on September 19th
Published on September 11th, 2011 3:12 pm EST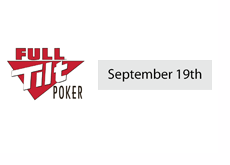 The AGCC's (Alderney Gambling Control Commission) public hearing regarding Full Tilt Poker is set to resume on Monday, September 19th.
The Full Tilt Poker hearing initially got underway on July 26th. After an application from those representing Full Tilt Poker was submitted, the AGCC elected to adjourn the hearing until "no later than September 15th". The decision to adjourn the meeting was made in order to allow Full Tilt Poker to (hopefully) close on a deal that would save the company and player balances.
September 19th is just over a week away, and Full Tilt Poker appears to be no closer to closing a deal than they were on July 26th. As a matter of fact, the situation is even more dire, as the exclusive negotiations that were afforded to the unnamed European investor expired with no deal. On top of that, Full Tilt Poker has blown through even more money over the past two months, as they currently have zero revenues.
What can we expect from September 19th? Probably not very much.
In my opinion, the likeliest scenario is that Full Tilt Poker asks for another extension.
Full Tilt's August 31st release was likely greasing the rails for such a request, as they said that they are still "actively exploring" opportunities and had recently engaged "an additional financial advisor through an investment banking group" to help find an infusion of cash.
My guess is that Full Tilt's lawyers will say that the company is still engaged in negotiations and needs more time to close a deal. I also guess that this request will be granted by the AGCC. Full Tilt's license would remain suspended under this scenario.
Unless some miracle deal is struck, I would bet that the Full Tilt Poker saga will continue to stretch out for the foreseeable future.
--
Another possibility (though less likely, IMO) for the September 19th hearing would be the AGCC deciding to revoke Full Tilt Poker's license. I would be surprised if this took place on September 19th, but it is a possibility.
--
In short, I would keep your expectations very low for the September 19th hearing.
--
Filed Under:
Poker Scandals