Published on April 30th, 2007 4:35 pm EST
The King likes a good charity event as much as the next person. However, when someone gets screwed at the final table of the event, it tends to leave a bad taste in people's mouths. Here is how it went down: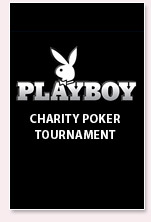 The charity event had several prizes for the top placing people in the tournament. For the people that finished first and second in the tournament, they would receive WSOP prize packages, including a buy-in to the tournament and hotel accomodations. Third place was a US Open Golf package, and fourth place was a TV.
Well, the tournament was down to four-handed, including Steve Dannemann, Shannon Elizabeth, Terrance Chan, and another player. Since it is four-handed and the real prizes start at 3rd place, the play is slowing down. The tournament director at this point reveals that they only have twenty minutes left in the room, and that the tournament must finish quickly. So he doubles the blinds, and then announces that the blinds will be doubling every hand. Then, after that doesn't finish the tournament fast enough, he says that they will simply award prizes based on chip stacks.
After this takes place, there are three players left: Elizabeth, Dannemann and Chan. Annie Duke is sitting behind Dannemann, telling him what he should do. At this point, Elizabeth is the clear chip leader, Dannemann is in second, and Chan is in third. Elizabeth and Dannemann both agree that they are going to fold their hands, because by doing this, they will guarantee themselves first and second place, thereby awarding Chan third place. They do this, and win the WSOP prize packages, and Chan finishes third. You can read about it in
Chan's Livejournal space here.
The King loves a good charity event as much as the next person, but it should go down in a fair manner. Sure, it was for charity, but that doesn't mean that somebody should be screwed. You had a celebrity and a poker player worth millions screwing Chan out of a WSOP package seat; or at least screwing him out of the right to try and win that seat. Couldn't they have done some sort of a chop? Negotiate to keep the room an extra 30 minutes? This just doesn't seem right to the King.
--
Filed Under:
Tournament Results
|
Other Poker News