Phil Galfond Up Well Over a Million Dollars in March
Published on March 21st, 2012 1:00 am EST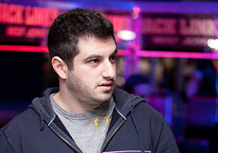 Now that the $500/$1000 games on Full Tilt Poker have disappeared, single month profits of over a million dollars in online cash games have become relatively rare.
Back in the "good old days" (before Black Friday), high stakes players on Full Tilt Poker could easily make or drop a million dollars in a single day. Times have changed, and the games are smaller now.
Phil "MrSweets28" Galfond has been able to make over a million dollars so far this month. According to HighStakesDB.com (link below), Galfond made $1,365,576 over the first 19 days of March. Galfond's large profit has come over a total of 28,287 tracked hands so far this month.
"RaiseOnce" (who is rumored to be Phil Ivey) has also enjoyed a very strong start to the month, raking in over $900k. "RaiseOnce" has posted his $900k+ profit over a total of 18,952 hands.
Other players who have had strong months in March include:
"EiruAbu", +626k
"Isildur1", +608k
"Terken89", +468k
--
In order for there to be winners, there have to be losers, so let's take a look at the biggest cash game losers so far in March:
"Jeans89", -676k
"MaiseE", -549k
"mTw-DaviN", -497k
"takechip", -464k
--
The biggest winners and losers so far this year are:
Winners
"Jeans89", +1.2 million
"bernard-bb", +1.04 million
"MrSweets28", +931k
Losers
"Ilari FIN", -940k
"long90110", -940k
"Zypherin", -741k
Source:
HighStakesDB.com
Photo: GreasieWheels.com
--
Filed Under:
Cash Games