$1 Million Winner-Take-All Match Set To Start This Weekend
Published on March 29th, 2012 1:54 pm EST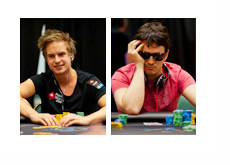 Viktor "Isildur1" Blom and Isaac "philivey2694" Haxton have reportedly agreed to square off against each other for a third time in the "Superstar Showdown".
This time around, the stakes will be much higher, as each player has agreed to put up $500,000.
The twist? Haxton and Blom have agreed to play until one player has all of the money.
According to Pokerstarsblog.com, Blom and Haxton will start their third "Superstar Showdown" match this Saturday at 1 pm ET. Four tables of $200/$400 No Limit Hold'em will be played.
In past "Superstar Showdown" battles, there would be a cap of 2,500 hands, with the winner being the player who was up after the 2,500 hands had been played. This time around, there will be no cap.
"Isildur1" and "philivey2694" will play for four hours on Saturday. If neither player has won the entire $500,000 from their opponent at the end of that four hours, the two players will return the next day at the same time and play for another four hours. Blom and Haxton will keep playing, day after day, until one of them has the entire $1 million.
--
"Isildur1" currently has a record of 10-3 in the "Superstar Showdown", but two of these three losses have come at the hands of Isaac Haxton. Haxton won the first "Superstar Showdown" match after taking $41,701 from Blom, and then followed this up with a $5,093 profit in their second match a few weeks ago.
--
Who do you have in this battle? Will Blom exact his revenge or will Haxton go 3-3 in "Superstar Showdown" matches?
Source: Pokerstarsblog.com -
Superstar Showdown: Blom, Haxton to Face Off in $1 Million Match
--
Filed Under:
Cash Games