Blom Makes Nearly $200k on Day 1 of "Superstar Showdown"
Published on April 1st, 2012 12:47 am EST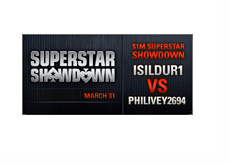 Viktor "Isildur1" Blom struck first in the mega "Superstar Showdown" earlier today, taking nearly $200,000 off of Isaac "philivey2694" Haxton.
In total, 1,901 hands were played between Haxton and Blom today, with Blom turning a profit of $198,438.
Per the terms of this mega "Superstar Showdown" match, Haxton and Blom started with $500,000 each. The two players will do battle at four $200/$400 No Limit Hold'em tables until one of the men has won $500,000 from the other.
Haxton and Blom will play each and every day, for four hours at a time, until one of the two has won $500,000. The match will resume at 1 pm ET on Sunday afternoon and will be paused again after four hours if neither player has felted the other.
--
This is the third "Superstar Showdown" match that has taken place between "Isildur1" and Haxton. Haxton currently has a perfect 2-0 record in the "Superstar Showdown", with victories of $41,701 and $5,093.
Haxton is the only player that has had any success against "Isildur1" in the Superstar Showdown. Blom has a 10-3 record overall with a cumulative profit of $694,630. Aside from Haxton, the only other player to beat Blom in a "Superstar Showdown" match is Daniel Negreanu (Negreanu is 1-1 lifetime against Blom in the "Superstar Showdown").
--
Will Haxton be able to dig out of a $200k hole, or will "Isildur1" finally avenge his two losses?
--
Filed Under:
Cash Games