"Isildur1" Leads By $281,365 After Two Days
Published on April 2nd, 2012 1:58 am EST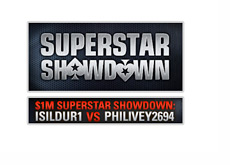 After two days of the $1 million "Superstar Showdown", Viktor "Isildur1" Blom leads Isaac "philivey2694" Haxton by $281,365.
Heading into Day 2 of the match, "Isildur1" held a lead of nearly $200,000 over Haxton. Blom managed to extend his lead shortly after Day 2 got underway, with many thinking that he was about to put away Haxton in short order.
Haxton was able to turn the momentum at this point, nearly completely erasing the deficit.
Unfortunately for "philivey2694", Blom quickly regained his momentum, jumping out to a lead of nearly $400k before ending the day with a lead of $281,365. The winner is the first player to reach a total profit of $500,000, and the two players will keep playing four hours per day until there is a winner.
--
The biggest hand of the match today was a $169,696 pot that was won after a particularly good call by "Isildur1".
With the board reading Ac-Jc-Td-8d-Kh, Haxton pushed all-in for $94,712. Blom decided to make the call, and the two players turned over:
Blom - Ad-8h
Haxton - Kd-6d
Blom won with his two pair, taking down the biggest pot of the match.
--
Blom and Haxton have now played 3,634 hands so far over two days. Blom, as mentioned, currently leads with a profit of $281,365.
The match will resume at 1 pm ET on Monday afternoon.
--
Filed Under:
Cash Games