"Isildur1" Wins "Superstar Showdown" Against Isaac Haxton
Published on April 2nd, 2012 8:06 pm EST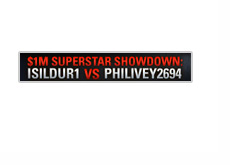 Viktor "Isildur1" Blom finally exacted his revenge on Isaac "philivey2694" Haxton earlier today after winning the "Superstar Showdown" for a total of $500,000.
The rules of this "Superstar Showdown" match were a bit different than previous Showdowns. Instead of playing a set number of hands (usually 2,500), Blom and Haxton agreed to play until somebody had won $500,000 from the other. The game of choice? $200/$400 No Limit Hold'em. The two agreed to play for four hours per day, day after day, until somebody proved victorious.
It ended up taking Blom 5,030 hands to finish off Haxton. In total, Haxton and Blom ended up playing for roughly 12 hours over the course of three days.
Haxton never really got it going and was down for the vast majority fo the match. After the first day of play, Blom was up $198,438. After the second day of play, Blom was up $281,365. Shortly before the end of the third day of play, "Isildur1" put Haxton out of his misery and finished off the match.
On Day 2 of the showdown, Haxton was able to turn the momentum in his favor and nearly completely erased a deficit of around $300,000. Unfortunately for Haxton, Blom kept his composure and re-asserted himself, quickly building up yet another six figure lead. Haxton was never able to recover. There was a brief moment of hope for Haxton fans late on Day 3 after he turned his last $16k into $160k, but it just wasn't meant to be.
--
Viktor "Isildur1" Blom now has a record of 11-3 in "Superstar Showdown" matches, with a cumulative profit of well over $1,000,000. Two of his three losses have come against Isaac Haxton, but Blom was able to avenge those in a big way today.
With today's big win, Blom has posted a profit over every single player that he has played in the "Superstar Showdown". Daniel Negreanu is the only other player to have beaten Blom in the "Superstar Showdown", but "Isildur1" still has a cumulative profit of over $100k in their two matches.
It will be interesting to see who steps up to play "Isildur1" next..
--
Filed Under:
Cash Games
|
Online Poker Rooms