Gus "broksi" Hansen Down Almost $1 Million in September
Published on September 30th, 2012 12:00 am EST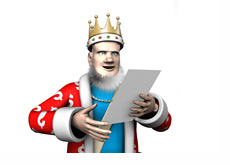 With Full Tilt Poker still shuttered, the vast majority of the online high stakes action is taking place on Pokerstars.
Will high stakes players migrate back to Full Tilt Poker when the site re-opens in the first week of November? Will Full Tilt Poker still offer the mega-stakes games that they did before the site was shut down last year? We'll soon find out.
--
"Odd_Oddsen" is currently the biggest cash game winner on Pokerstars so far in September, having collected a total of $800,176 in profits over 62,438 tracked hands.
"Kanu7" is the second most profitable cash game player on Pokerstars so far this month, making a total of $688,275. "Kanu7" has made the most of his time on the site this month, as his nearly $700k in profit has come over just 10,088 hands.
The other big winners so far this month are:
"Jeans89", +$575,992
"Sauce123", +$539,732
"GVOZDIKA55", +$501,114
Some of the other familiar names who have had strong months in September are:
"tr1cky7", +$492,152
"Ben86", +$391,857
"toweliestar", +$171,980
--
Gus Hansen, otherwise known as "broksi" on Pokerstars, has had a rough month to date.
According to HighStakesDB.com (link below), "broksi" is down nearly $1 million ($971,431 to be exact) in September.
That's the bad news for Gus Hansen. The good news? He is about to recover his trapped Full Tilt Poker bankroll, which is reportedly in the millions of dollars.
Other players who have lost hundreds of thousands of dollars on Pokerstars this month include:
"KPR16", -$618,472
"Skjervoy", -$480,820
"Isildur1", -$461,276
"Ilari FIN", -$360,920
--
Source:
HighStakesDB.com
--
Filed Under:
Cash Games