Lederer Busts And Then Re-Enters Festa al Lago Main Event
Published on October 23rd, 2012 11:48 pm EST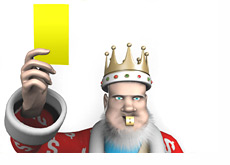 What do you do when you are a pariah of the poker world who is currently facing a civil suit from the US Department of Justice?
If you're Howard Lederer, you play in the $10k Festa al Lago Classic main event at the Bellagio in Las Vegas.
Despite the fact that ROW players don't have access to their player balances yet, and despite the fact that US players still don't know when they will be getting their money back from the DoJ, Howard Lederer is spending tens of thousands of dollars on tournament buy-ins.
Lederer conducted a couple of interviews recently, one with Pokernews.com and one with TwoPlusTwo. Lederer was clearly looking to pave the way towards a a return to the poker world by conducting the two interviews, as he popped up in Las Vegas cash games shortly after. Howard is now taking it a step further by buying into a tournament.
According to reports on Twitter, Howard busted his first buy-in shortly after showing up at the tournament. He decided to re-buy (that's $20k worth of buy-ins total), and is still alive in the main event.
--
Some of the reactions on Twitter so far:
@PrahladFriedman
Got 180k with 62 players left. Also Howard Lederer just busted out at my table. The energy in the room was tense.
@JasonMercier
Howard Lederer, Wtf is wrong w u... Go back into hiding where u belong. If u show up at my table ever, I'll literally laugh in ur face #gfy
@JonathanDuhamel
Wow Lederer sits down at Bellagio... guy got some guts..
@audavidb
Howard Lederer playing cash vs all the red pros he helped make rich is one thing but playing in a 10k vs the players he screwed takes nerve
--
Filed Under:
Tournament Results
|
Poker Scandals