Zynga Up After Signing Deal With Bwin.Party
Published on October 25th, 2012 2:40 pm EST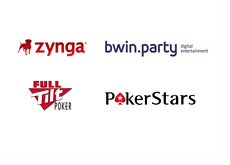 1. Zynga Inks Deal With PartyGaming.
Zynga, the much-maligned social gaming company that has basically gone straight into the toilet since going public, is up over 12% today after the company announced that they had signed an exclusive deal with Bwin.Party to offer real money online poker and casino games in the United Kingdom.
According to a press release that was circulated by the company yesterday, Zynga's RMG service and Bwin.Party will be launching a "full suite" of casino games in the first half of 2013.
Zynga's real money UK poker players will be joining the bwin.party liquidity pool.
Source: Techcrunch.com -
Zynga Makes Its First Move Into Real Money Games, Partners With Casino Gaming Giant Bwin.Party
2. Full Tilt Poker Commercials Show Up on Canadian Sports Network.
It's now less than two weeks until Full Tilt Poker is back up and running. Less than two weeks from today, players in many countries throughout the world will be able to log into their Full Tilt Poker accounts, withdraw their balances and sit down to play some poker.
If you were watching Game 1 of the World Series last night on Sportsnet in Canada, you likely saw a couple of Full Tilt Poker commercials. The commercials informed people that Full Tilt Poker would be relaunching on November 6th, 2012.
3. Pokerstars Announces "All-Star Showdown".
Earlier this week, Pokerstars announced that an "All-Star Showdown" will soon be taking place on the site.
Eight of the top cash game players in the world will be squaring off in a tournament that will see the eventual winner take home $550,000. Each player will buy in for $100,000.
The eight players will pair off and play in single elimination events, with the winner moving on to the next round. The player who wins three matches in a row will take home the $550,000 first place prize.
The names who have confirmed for the event so far include:
"Sussie Smith"
"Kanu7"
"Sauce123"
"KTPOKP"
"mrSweets28"
"Isaac Haxton"
Players will square off on 4 No Limit Hold'em tables. The players will start with 1,000 big blinds, and the blinds will reportedly double after 3,000 hands. The matches will continue until one of the players has busted.
The first match will take place this Saturday, while the final match will take place on Sunday, November 4th.
Pokerstars is expected to announce more details, including the identities of the final two participants, in the coming days.
Source: Pokerstarsblog.com -
Pokerstars Unveils Monster All-Star Showdown
4. Full Tilt Poker Announces "Deal Me In" Promotion.
As mentioned, Full Tilt Poker is just days away from its relaunch. What will the company do to lure back its customers?
Cardplayer.com has more information on Full Tilt Poker's upcoming "Deal Me In" promotion -
you can read details of it here
.
--
Filed Under:
Poker Scandals
|
Online Poker Rooms
|
Other Poker News