The Biggest Winners and Losers on Full Tilt Poker Over The Past Week
Published on November 13th, 2012 11:59 pm EST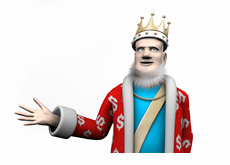 Full Tilt Poker 2.0 has now been up and running for more than a week.
With the signings of Tom "durrrr" Dwan, Viktor "Isildur1" Blom and Gus Hansen, Full Tilt Poker was attempting to regain its status as the home of the world's largest online cash games. Shortly after Full Tilt Poker was shut down by the AGCC in June of 2011, the majority of the high stakes cash games moved over to Pokerstars. Now, over 16 months later, Full Tilt Poker is trying to reclaim some of that lost action.
Gus Hansen and Viktor Blom both made appearances on Full Tilt Poker this past week. Did they finish green or red for the week? Let's take a look.
Six players managed to earn in excess of $100k+ in the seven days following Full Tilt Poker's relaunch. They were:
"O Fortuna PLS", $405,895
"Rui Cao", $233,293
"davin77", $210,329
"ronnyr37617", $210,019
"Alex Luneau", $197,512
"no_Ola", $144,180
--
Six players, including Gus Hansen (the biggest loser on the week) and Viktor Blom, managed to lose in excess of $100k on Full Tilt Poker over the past week. They were:
Gus Hansen, -$387,736
"KPR16", -$204,980
"SallyWoo", -$179,331
"IReadYrSoul", -$176,892
"SetoKaiba1", -$155,302
"Isildur1", -$100,372
Source:
HighStakesDB.com
--
Filed Under:
Cash Games