"Patpatman" Finishes With $774k Profit
Published on December 1st, 2012 10:55 pm EST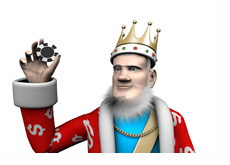 November featured the return of Full Tilt Poker and their high stakes games to the poker world.
Despite Full Tilt Poker's return, most of the high stakes action in November still took place on Pokerstars.
November's biggest winner was "patpatman", who managed to make $773,955 over a total of 20,861 tracked hands on Pokerstars.
The second and third most profitable cash game players in November were Ben "Sauce123" Sulsky ($594,928) and "1Il|1Il|1il|" ($592,171). "Sauce123" made his $600k over a total of 16,263 tracked hands, while "1Il|1Il|1il|" was much more active in November, needing 68,741 hands to make his $592k.
Other big winners in November included:
"no_Ola", $551,807
"Alex Luneau", $475,370
"KPR16", $401,843
--
It was a rough month for the Europeans in November, as Gus Hansen, Ilari Sahamies and "Skjervoy" all lost substantial sums of money.
Gus Hansen, one of the members of the "Professionals" on Full Tilt Poker, probably wishes that the site had relaunched on December 6th and not November 6th. Hansen managed to lose nearly $2 million on Full Tilt in November (HSDB estimates $1.84 million) over a total of 22,444 hands. Hansen is known for his very big cash game swings, so don't be surprised if he turns a huge profit over the next few months.
Ilari "Ilari FIN" Sahamies managed to lose $637,983 over 13,043 tracked hands in November, while "Skjervoy" dropped $506,704.
Some of the other big losers in November were:
"PepperoniF", -$436,280
"tr1cky7", -$402,045
"Odd_Oddsen", -$388,852
--
Source:
HighStakesDB.com
--
Filed Under:
Cash Games