"Yadio1111" Takes Home $453k
Published on December 17th, 2012 8:14 pm EST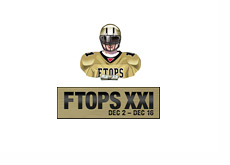 Yann "yadio1111" Dion took down the FTOPS XXI main event on Full Tilt Poker earlier this morning, taking home $453,229.40 after cutting a deal with "CSWAMI".
The FTOPS XXI main event was a multi-entry event, as players were allowed to buy in a maximum of three times. This helped to create a massive $2,859,600 prize pool, which was much larger than the $1.5 million that Full Tilt Poker had guaranteed.
"yadio1111" bought in three times, with his entries finishing 3,954th, 862nd and 1st.
--
A number of prominent players made deep runs in this event - the final table also included Sorel "Imper1um" Mizzi and Steven "Zugwat" Silverman. Here is how the final table ended up finishing out:
1. Yann "yadio1111" Dion, $453,229.40
2. "CSWAMI", $413,229.40
3. "AmplifiedSample", $253,932.48
4. Scott "iRockhoes" Augustine, $188,733,60
5. "Aberdonian85", $140,120.40
6. Sorel "Imper1um" Mizzi, $97,226.40
7. "MAMOHT_T", $65,770.80
8. "betrthanphil", $45,753.60
9. Steven "Zugwat" Silverman, $31,455.60
--
All in all, Full Tilt Poker has to be happy with how FTOPS XXI went, as it was the company's first major tournament event since the company was shut down and subsequently acquired by Pokerstars.
--
Filed Under:
Tournament Results
|
Online Poker Rooms