"Seb86" Makes Over a Million Dollars in December
Published on January 3rd, 2013 5:37 pm EST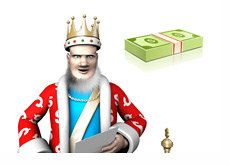 Sebastien "Seb86" Sabic managed to make over a million dollars in online cash games last month, making him December's biggest winner. "Seb86" was the only player who managed to rake in over seven figures in profits in December, as he ended up making $1,057,396 over a total of 19,730 tracked hands.
"Davin77" and "SallyWoo" also turned in some very strong months, as both players managed to clear over $900,000 in profits. "Davin77" made $972,231 over 30,961 tracked hands, while "SallyWoo" managed to make $945,672 over just 6,675 tracked hands. "SallyWoo" made a ridiculous $141.67 per hand in December.
Other players who managed to turn in strong months in December:
"Schoitl", $800,044
"Isildur1", $711,455
Speaking of "Isildur1", the Swedish phenom is the lone member of Full Tilt Poker's "Professionals" who has managed to turn a profit since the site re-opened in late 2012. "Isildur1" finished the year with a total profit of around $413k on Full Tilt Poker, while Gus Hansen (-$3.2 million) and Tom Dwan (-$987k) have both suffered substantial losses.
Some of the other notable names who managed to turn in solid months in December:
"Sauce1234", +410k
"mastrblastr", +356k
"Kanu7", +295k
--
Two players managed to lose over $1 million in December on Full Tilt Poker. They were:
"patpatpanda", -$1.46 million
Gus Hansen, -$1.36 million
As mentioned, Hansen has dropped millions since Full Tilt Poker re-opened its doors last year.
"Durrrr" (-892k), "O Fortuna PLS" (-420k) and "Poker_KaMI" (-$377k) also lost substantial sums on Full Tilt Poker in December.
Source:
HighStakesDB.com
--
Filed Under:
Cash Games