Viktor Blom on Big Roll to Start 2013
Published on January 8th, 2013 6:21 pm EST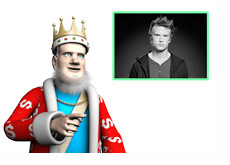 Viktor "Isildur1" Blom is currently in the midst of one of his famous runs right now on Full Tilt Poker.
According to HighStakesDB.com, "Isildur1" has made a total of $2,716,774 over 9,813 tracked hands so far in January. The next most profitable player during that same time, "Bttech86", has made $434,801.
Blom, who confirmed his entry into the 2013 National Heads-Up Poker Championship earlier this week, has been playing anybody and everybody during his recent run on Full Tilt Poker. Over the past week or so, "Isildur1" has gotten into notable battles with the likes of Alexander "PostFlopAction" Kostritsyn and Phil "OMGClayAiken" Galfond. As witnessed during his first epic run on Full Tilt Poker in the fall of 2009, Viktor Blom will take on all comers.
Viktor Blom, who is a member of Full Tilt's "The Professionals" stable of sponsored pros, is now the biggest winner on Full Tilt Poker since the site re-opened its doors in November, having made an estimated $3.13 million.
--
Blom has been active on Twitter during his most recent run. Here is a selection of some of the Tweets that have been posted by "Isildur1" over the past couple of days:
"#letsbreak11million euro upswing I had when I was 18-years old. How sick would that be?"
"Going to order a chicken pizza and a few 4-packs of Red Bull. Action? Anyone?"
"Isildur1 last 7 days: $2,443,311 (7903 hands)."
--
Viktor Blom decided not to defend his PCA Super High Roller title this year, and that has proven to be a wise decision, as he has made millions of dollars over the past couple of days.
Source:
HighStakesDB.com
--
Filed Under:
Cash Games