Published on May 9th, 2007 7:20 pm EST
Tor Gammelgard is currently chip leader of the Grand Prix de Paris after day 3 of play, with well-known pros Freddie Deeb and Ram Vaswani breathing down his neck.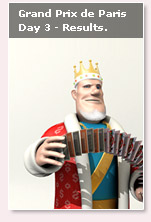 Play was very short on Wednesday as 26 players played down to 18. Thursday's session should be a bit longer, where the 18 players currently remaining play down to 6 players.
The Grand Prix de Paris was formerly a stop on the World Poker Tour until the government of France decided that the World Poker Tour would not be welcome in the country, due to their ties to online gambling.
Here are the current chip counts after Day 3, courtesy of blondepoker.com:
* Tor Gammelgard 377,800 5/8
* Freddie Deeb 299,100 6/4
* Will Ma 294,500 5/1
* Ram Vaswani 252,400 6/8
* Nichlas Saarisilta Mattsou 205,900 6/7
* Atanas Gueorguieu 202,400 6/9
* Jeff Lisandro 197,900 6/6
* Nikolai Liakos 140,500 5/6
* Runar Runarsson 123,100 6/1
* Kirill Rabtsov 113,800 6/2
* Csaba Kuremszki 96,300 6/3
* Georges Teboul 95,300 5/3
* David Redlin 92,000 6/5
* Adrien Gavile 89,800 5/7
* Jeff Wallace 57,200 5/2
* Antoine Nouel 50,900 5/4
* Yuri Kerzhapkin 50,500 5/9
* Paul Gourlay 43,800 5/5
--
Filed Under:
Tournament Results