Defending Champion Erik Seidel Falls to Tom Dwan
Published on January 25th, 2013 1:10 pm EST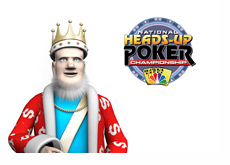 The first round of the NBC National Heads-Up Poker Championship is now in the books, with names such as Phil Ivey, Tom Dwan and Viktor "Isildur1" Blom moving on to the Round of 32, which will get underway on Friday afternoon.
The Round of 64 featured a number of intriguing matches. The pairing that drew the most attention was Tom "durrrr" Dwan vs Erik Seidel, as Dwan is one of the most popular players in the world, while Seidel is the defending champion of the event. In the end, Dwan moved on to the second round, while Seidel went home.
Here is how the first round matches went on Thursday:
Club Draw
Esfandiari defeated Tilly
Duhamel defeated Glantz
Moorman defeated Mortensen
Cates defeated Salsberg
Rousso defeated Timoshenko
Deeb defeated Frankenberger
Julius defeated Bloch
Seiver defeatedc Failla
Spade Draw
Greenstein defeated Lamb
Monnette defeated Raymer
Blom defeated Lichtenberger
Matusow defeated Mizrachi
Hennigan defeated Williams
Simon defeated Oppenheim
Ivey defeated Laak
Bonomo defeated Haxton
Heart Draw
Cheong defeated Busquet
Bruce Miller defeated Bellande
Galfond defeated Ho
Katchalov defeated Jaka
J. Smith defeated Grospellier
Hellmuth defeated Sexton
Moneymaker defeated Somerville
Sands defeated Salaburu
Diamond Draw
Dwan defeated Seidel
Brunson defeated Marchese
Hastings defeated Matros
Elezra defeated Schulman
Serock defeated Merson
Seed defeated Charania
Baumann defeated Boeree
D. Smith defeated Mercier
--
Here are the Round of 32 matches:
Club Draw
Antonio Esfandiari vs Jonathan Duhamel
Chris Moorman vs Dan Cates
Vanessa Rousso vs Shaun Deeb
Kyle Julius vs Scott Seiver
Spade Draw
Barry Greenstein vs John Monnette
Viktor Blom vs Mike Matusow
John Hennigan vs Sam Simon
Phil Ivey vs Justin Bonomo
Heart Draw
Joseph Cheong vs B.J. Miller
Phil Galfond vs Eugene Katchalov
Justin Smith vs Phil Hellmuth
Chris Moneymaker vs David "Doc" Sands
Diamond Draw
Tom Dwan vs Doyle Brunson
Brian Hastings vs Eli Elezra
Joe Serock vs Huck Seed
Dan Smith vs Gaelle Baumann
--
The Round of 32 will get underway this afternoon, while the Round of 16 will take place on Friday evening.
--
Filed Under:
Tournament Results