Patrik Antonius Now Playing Under "FinddaGrind"
Published on February 9th, 2013 2:35 pm EST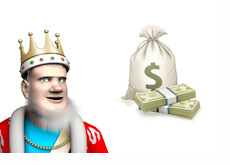 The high stakes games on Full Tilt Poker have been in full swing lately, as Phil Ivey, Tom "durrrr" Dwan, Viktor "Isildur1" Blom and Patrik Antonius have all logged significant time on the site over the first eight days of February.
Tom "durrrr" Dwan is currently the biggest winner in February, as he has been able to make $1,253,288 over a total of 6,958 tracked hands. Dwan had a particularly good day at the 2-7 Triple Draw tables earlier this month, and that session accounted for nearly all of his profits for the month.
Rui Cao has also had a strong start to the month, winning almost $1 million ($939,305 to be exact) over 2,124 tracked hands.
Other players who have gotten off to strong starts this month include:
"Alexonmoon", +$618,718
"KPR16", +$444,449
"Seb86", +$418,116
Another familiar alias that has gotten off to a strong start in February is "FinddaGrind". After a total of 1,509 tracked hands, "FinddaGrind" is up nearly $320,000.
The "FinddaGrind" account reportedly belongs to Patrik Antonius, who will likely no longer be playing under his "Patrik Antonius" account. Antonius switched to playing under his real name shortly after signing his deal with Full Tilt Poker back in the spring of 2008. Antonius no longer has a professional relationship with the site.
--
Some familiar names have gotten off to slow starts in February. They are:
Viktor "Isildur1" Blom, -$850,292
Phil "Polarizing" Ivey, -$550,274
Patrik Antonius, -$523,946
Phil "OMGClayAiken" Galfond, -$203,945
Note: Antonius' losses were under his old account, while his "FinddaGrind" account is currently up for the month
--
Source:
HighStakesDB.com
--
Filed Under:
Cash Games