"SallyWoo" Up $607k Through First 18 Days of April
Published on April 20th, 2013 1:55 am EST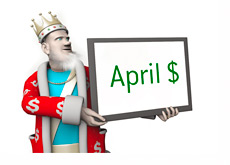 The online high stakes cash games have been fairly quiet so far this month, thanks, in part, to the WSOP APAC that just wrapped up in Australia.
Nobody has won or lost seven figures so far this month, which is fairly unusual at this stage of the month.
The most profitable cash game player in April is "SallyWoo", who has managed to make around $608k over a total of 1,291 tracked hands. "Kagome kagome" has been the next most profitable player in April, making $578,016 over a total of 3,404 tracked hands.
After "SallyWoo" and "kagome kagome" are a number of very recognizable names, including:
Phil "OMGClayAiken" Galfond, +$536k
Isaac "luvtheWNBA" Haxton, +$511k
Tom "durrrr" Dwan, +$359k
Daniel "w00ki3z." Cates, $288k
Patrik "FinddaGrind" Antonius is also green so far this month, having posted a profit of $152k over 4,608 tracked hands.
--
The biggest cash game losers in April are:
"KPR16", -610k
"Seb86", -561k
"Bttech86", -431k
Viktor "Isildur1" Blom, -283k
"cottonseed1", $205k
Phil "Polarizing" Ivey, who managed to win his ninth World Series of Poker bracelet at the recently completed WSOP APAC, has dropped $166k in online cash games in April.
Source:
HighStakesDB.com
--
Filed Under:
Cash Games