Roman Herold To Take Chip Lead Into Day 5
Published on April 25th, 2013 7:22 pm EST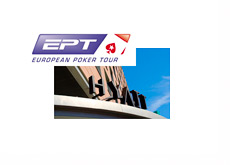 Day 4 of the EPT Berlin main event wrapped up a short while ago, with Roman Herold emerging as the tournament chip leader heading into Day 5 on Friday.
912 players turned out for this year's EPT Berlin main event, which ended up creating a total prize pool of over 4.5 million EUR. At the conclusion of Day 4, just 17 of the original 912 players remained - all 17 players are guaranteed a minimum of 27,000 EUR for making it this far, with the eventual winner of the event taking home 880,000 EUR.
Here are the chip counts heading into Day 5 on Friday:
Roman Herold, 4,485,000
Dashgyn Aliev, 3,931,000
Khiem Nguyen, 2,788,000
Alexander Helbig, 2,040,000
Robert Haigh, 1,659,000
Yasar Guden, 1,619,000
Julian Thomas, 1,400,000
Robert Auer, 1,380,000
Daniel-Gai Pidun, 1,191,000
Roman Korenev, 1,186,000
Pascal Vos, 1,130,000
Matias Kesanen, 1,082,000
Kevin Stani, 862,000
Olivier Busquet, 736,000
Lasse Christiansen, 678,000
Calvin Anderson, 561,000
Phillippe Barouk, 531,000
--
Day 5 will get underway at 12 pm local time on Friday afternoon and play down to the final table.
Here are the final table prize payouts:
1. 880,000 EUR
2. 531,000 EUR
3. 325,000 EUR
4. 255,000 EUR
5. 202,200 EUR
6. 155,000 EUR
7. 110,000 EUR
8. 77,000 EUR
--
Filed Under:
Tournament Results