Published on May 23rd, 2007 5:49 pm EST
Is Phil Ivey stretching his legs, getting ready for a profilic World Series of Poker? Or will he stick to his previously mentioned plan of only playing in the $50,000 H.O.R.S.E. and $10k WSOP main event? Based on his success at the Mirage Poker Showdown so far this week, Ivey might want to reconsider his World Series of Poker plans, and add a bunch of new golden bracelets to his already swelling collection.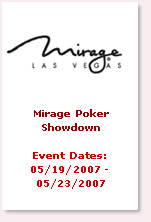 Ivey has played well in the Mirage Poker Showdown, and is currently in first place heading into six-handed action which begins later today. The event is a WPT event, so the first place winner gets just over a million dollars as well as an entry to the WPT Championship at the Bellagio next year.
The final table should be an interesting one, with a mix of live pros and online superstars. Ivey currently has just under 1.4 million in chips. Cory "UGOTPZD" Carroll is currently second in chips. You have probably seen Cory playing on Pokerstars in the $100 rebuy or doing deep into the Sunday Million. He is also known for typing "<-------" when he eliminates an opponent.
Another notable name at the final table is Darrell "Gigabet" Dicken, who currently has 1.203 million in chips. "Gigabet" is a name well-known to online players, a name that has been dominating for years and years.
Rounding out the final table is Richard Kirsch, Jonathan "FieryJustice" Little and Amnon Filippi.
--
Filed Under:
Tournament Results