Ivey Strong, Hansen Still Struggling
Published on September 21st, 2013 2:50 pm EST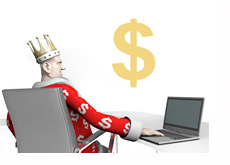 There is a bit of a lull right now in the poker world, as the World Series of Poker Europe is still a few weeks off.
With many high stakes regulars currently taking a break from the tour, the action has turned to online high stakes cash games. Over the past week or so, there have been a number of marathon sesssions on Full Tilt Poker that have included some of the biggest names in the world.
The biggest beneficiary of this increase in action? "IReadYrSoul", who has managed to rake in a total of $1,684,632 over a total of 3,972 tracked hands.
A number of other players have managed to crack the $500,000 mark in profits so far this month. They are:
"Denoking", $698,242
"luvtheWNBA", $694,756
"ragen70", $631,566
"Polarizing", $583,710
"Polarizing", which is the alias used by Phil Ivey on Full Tilt Poker, has been particularly active so far this month (by his standards, at least), putting in a total of 8,598 tracked hands. Ivey has managed to put aside his current legal situation with Crockfords to win a little over $580,000.
--
Two members of Full Tilt Poker's "Professionals" have lost over a million dollars so far in September, as Gus Hansen has dropped $1,337,481, while Viktor "Isildur1" Blom has dropped $1,257,850.
Gus Hansen has been particularly brutal since Full Tilt Poker 2.0 opened last year, dropping nearly $8 million ($7,974,133 to be exact) over a total of 182,332 tracked hands. Gus Hansen has been, by far, the biggest loser on Full Tilt Poker since the site re-opened.
In total, four players have dropped over $1 million on Full Tilt Poker so far this month. They are:
"SallyWoo", $1,757,505
Gus Hansen, $1,337,481
"Isildur1", $1,257,850
"Seb86", $1,216,774
Some of the other notable names that are in the red in September include:
David Benefield, -$227,388
"PostFlopAction", -$109,676
"OMGClayAiken", -$83,978
--
Source:
HighStakesDB.com
--
Filed Under:
Cash Games