"Bttech86" Up $1,427,804 in January
Published on January 28th, 2014 7:24 am EST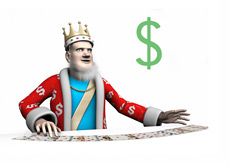 Ben "Bttech86" Tollerene and Viktor "Isildur1" Blom have both gotten off to strong starts so far in 2014, as both players have made well over a million dollars on Full Tilt Poker so far this year.
"Bttech86" finished last year as the biggest online cash game winner, raking in a total of $2,996,585 over 117,730 tracked hands. Tollerene's strong performance in 2013 has spilled into this year, as he has managed to make a total of $1,427,804 over 8,348 tracked hands in January.
Viktor "Isildur1" Blom, who is a member of the "Professionals" on Full Tilt Poker, has also gotten off to a strong start in 2014, as he has turned a profit of $1,337,629 through the first 27 days of January. Blom has been very busy so far this month, playing a total of 46,985 tracked hands.
Here are some more of the big online cash game winners through the first 27 days of the month:
"WCGRider", $685,918
Isaac "luvtheWNBA" Haxton, $400,676
"Mikki696", $377,456
Daniel "Jungleman12" Cates, $290,243
"Hotmark777", $257,030
"Doorbread", $229,027
"Joiso", $226,289
"Yurasov1990", $210,135
--
What would a list of the bigger cash game losers look like without Gus Hansen?
Through the first 27 days of January, Gus Hansen has dropped the largest amount of money of any high stakes player, as he has lost $1,185,942 over 13,780 tracked hands. Add Hansen's 2013 results into the mix and "The Great Dane" is down nearly $10 million on Full Tilt Poker over the past 13 months. Ouch.
Here are the rest of the players who have dropped at least $100k to start the year:
"IReadYrSoul", -$659,520
"Saniker", -$316,646
"FinddaGrind", -$303,590
"Sauce1234", -$195,283
"Tyme2gamb0I111", -$129,726
"Martin Kabrhel", -$129,631
"Pummelfee123", -$123,434
"POKERBLUFFS", -$113,641
"Punting-peddler", -$112,436
--
Many of the world's top pros have been busy at the PCA and Aussie Millions to start the year, so I would expect the online action to pick back up in mid-February.
Source:
HighStakesDB.com
--
Filed Under:
Cash Games