Prize Money Remains Frozen More Than a Month After Tournament Was Suspended
Published on February 23rd, 2014 6:49 pm EST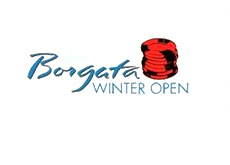 According to PressofAtlanticCity.com, the Borgata Hotel Casino and Spa is facing a class action lawsuit following the suspension of a Borgata Winter Poker Open preliminary event last month.
You all know the story by now - Event #1 ($560 Big Stack No Limit Hold'em Re-Entry $2 million Guaranteed) of the 2014 Borgata Winter Poker Open was suspended prior to the final day of play after it was revealed that the event had been "compromised". Tournament officials discovered that roughly 800,000 in counterfeit tournament chips had been introduced into the event.
27 players were remaining in the event at the time of the suspension.
Approximately a week after the tournament was suspended, Christian Lusardi was arrested and charged with rigging a publicly exhibited contest, criminal attempt and theft by deception. Workers at Harrah's Resort and Casino discovered 2.7 million in bogus Borgata tournament chips in a clogged sewer pipe, and Lusardi was arrested a short time later.
Lusardi ended up cashing for $6,814 in the event.
--
Tournament officials and NJ gaming officials suspended the tournament following the discovery of the fake chips, and the remaining prize pool was frozen.
The investigation continues and there has been no resolution as of yet.
This is unacceptable to Jacob Musterel, who decided to file a class action lawsuit earlier in the week.
According to the lawsuit, the Borgata had "insufficient security and supervision" and didn't move to quickly shut down the event once the bogus chips were discovered.
In addition, the lawsuit claims that Borgata officials failed to count chips on an ongoing basis.
The lawsuit "seeks refunds of the players' buy-in money and entry fees as well as reimbursement for incidental damages, such as travel costs."
Source: PressofAtlanticCity.com -
Poker players sue over fake chips in Borgata tourney
--
Filed Under:
Poker Scandals