"DrUPSWING" Takes Home $1,038,540.31 After Topping 46,586 Player Field
Published on March 2nd, 2014 6:25 am EST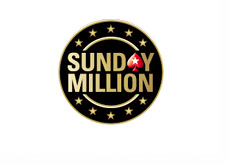 "DrUPSWING" of Germany took down the Sunday Million 8th Anniversary special on Monday morning for a payday of $1,038,540.31.
Pokerstars celebrated the 8th anniversary of their Sunday Million by guaranteeing a total prize pool of $8 million. The tournament ended up easily topping its guarantee, as 46,586 players ended up turning out for the $215 buy-in event. This mammoth turnout ended up creating a total prize pool of $9,317,200.
--
Given the massive field, the tournament took roughly 15 hours to reach its conclusion.
Once the tournament was down to just two players ("DrUPSWING" and "hdjgkfkgsdl"), a deal was reached that saw the remaining prize money almost evenly divided between the two players, minus the $160,000 extra that would go to the eventual winner.
The final hand of the tournament saw a flop of 2s-2h-Ah. The two players got their stacks into the middle of the table and flipped over:
"DrUPSWING", Jd-2d
"hdjgkfkgsdl", Kh-Qh
"DrUPSWING" had flopped trip deuces, while "hdjgkfkgsdl" had flopped a flush draw. The turn brought the Kc, giving "hdjgkfkgsdl" a few more outs to win the hand. The river brought the Jc, giving "DrUPSWING" a full house and the victory.
--
A total of 5,997 players ended up cashing in this event.
Here is how the final table ended up finishing out:
1st - "DrUPSWING", $1,038,540.31
2nd - "hdjgkfkgsdl", $877,090.19
3rd - "cynfarAA", $554,373.40
4th - "MRJ1111", $374,458.26
5th - "Kukoc69", $283,522.39
6th - "temp0r2k", $221,749.36
7th - "pinkfinger", $172,647.71
8th - "Uninc257", $137,242.35
9th - "pads1161", $110,874.68
--
Filed Under:
Tournament Results