2014 Macau Millions Largest Tournament Ever Held in Asia
Published on March 16th, 2014 5:32 pm EST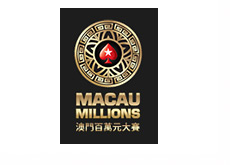 After a two-year hiatus, the Macau Millions returned with a bang in 2014.
The 2014 Macau, which ran from March 7th-16th, featured a total of 6 Day 1s. Players were allowed to enter as many days as they wanted, and each day of play allowed for re-entries. However, there was an unusual wrinkle to the tournament, as only the top 7% of each Day 1 flight advanced to Day 2. If players qualified more than once for Day 2, they received HK $11,000 and started Day 2 with their largest Day 1 closing stack.
In short, this unique format created a tremendous number of entries - 1,804 in all. This turnout resulted in the 2014 Macau Millions becoming the largest poker tournament ever held in Asia.
The final Day 1 flight was particularly massive, drawing a total of nearly 600 entries.
--
The largest turnout ended up creating a total prize pool of HKD $3,499,760, which is the equivalent of $450,604.60 USD.
Hao Chen from China ended up taking down the event for HKD $550,000 after besting Sheng Chang in heads-up play.
Here is how the final table ended up finishing out, courtesy of Pokerstarsblog.com (link below):
1. Hao Chen (China) - HKD $550,000
2. Sheng Chang (China) - HKD $400,000
3 Kenneth leong (Hong Kong) - HKD $270,000
4. Chia Wei Tsui (Taiwan) - HKD $190,000
5. Ping Cheong Fung (Hong Kong) - HKD $135,000
6. Chul Woo Jung (Korea) - HKD $105,000
7. Lester Ian Pinto (Singapore) - $85,000
8. Thomas Tung Wing Tsang (Hong Kong) - HKD $70,000
9. Hongbing Li (China) - HKD $56,000
10. Miklos Viczena (Hungary) - HKD $43,760
Source:
Pokerstarsblog.com
--
Filed Under:
Tournament Results