Soulier Takes Home €392,500 For His Victory
Published on March 29th, 2014 3:19 pm EST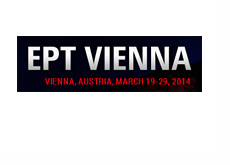 Fabrice Soulier outlasted a very tough field to take down the EPT10 Vienna High Roller event for €392,900 earlier today.
The EPT10 Vienna High Roller event ended up with the largest field of any EPT10 high roller event so far, as a total of 141 individual players contributed to a total of 181 entries for the event. This large turnout created a very large prize pool of €1,773,800, with €392,500 of that going to the eventual winner, Fabrice Soulier.
--
Soulier entered Saturday's final table fifth in chips, far behind the stacks of players such as Dmitry Yurasov and Benny Spindler.
Soulier was able to grind away and slowly increase his stack over the course of the day as other players dropped. One particularly big hand for Fabrice Soulier came when he engaged in an all-in confrontation with Vitaly Lunkin after a flop of 8c-9d-Kd. Here is what the two players flipped over:
Lunkin - Kc-Qd
Soulier - Kh-9h
The turn was a blank and the river brought the 9c, giving Soulier the full house and a massive pot.
Soulier was untouchable for the rest of the day after that pot, eventually finishing off Anatoly Filatov during heads-up play. Filatov decided to make his last stand with Ks-10h, while Soulier flipped over As-5s. The board ran out Qs-9c-2d-8h-7s and Soulier was declared the winner.
--
Here is how the final table of the EPT10 Vienna High Roller ended up finishing out:
Fabrice Soulier, €392,900
Anatoly Filatov, €262,200
Oleh Okhotskyi, €182,500
Vitaly Lunkin, €148,800
Dmitry Yurasov, €118,650
Rasmus Agerskov, €91,150
Benny Spindler, €66,350
Fady Kamar, €48,050
Jonathan Duhamel, €39,800
--
Filed Under:
Tournament Results