New Chips Being Used For Borgata Spring Open
Published on April 9th, 2014 2:58 pm EST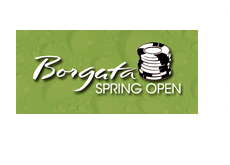 The Borgata Spring Poker Open, which began yesterday (April 8th), is using new high-tech poker chips following a scandal earlier in the year.
In January, Event #1 of the Borgata Winter Poker Open was suspended after it was revealed that counterfeit chips had been introduced into the event. Tournament officials eventually ended up discovering 800,000 in counterfeit tournament chips.
Cristian Lusardi was arrested about a week after the tournament was suspended and charged with rigging a publicly exhibited contest, criminal attempt and theft by deception. Workers at Harrah's Resort and Casino discovered 2.7 million in bogus chips in a clogged sewer pipe and Lusardi was arrested a short time later. Lusardi ended up cashing for $6,814 in the event.
At the time of the suspension (shortly before the start of the final day of play), 27 players were still alive in the event. The situation has still not been resolved as the remaining prize pool still remains frozen, which led Jacob Musterel to file a class action lawsuit back in late February. $1.5 million in prize money is still frozen.
--
In order to ensure that this doesn't happen again, the Borgata has introduced high-tech tournament chips that will be much harder to counterfeit.
The chips are reportedly more "intricate" and have more colors. In addition, legitimate chips can be authenticated using ultraviolet lights. According to the Borgata, tournament officials will reportedly be conducting spot checks to make sure that the chips in play are all legitimate.
In addition, the Borgata will be conducting more chip counts to ensure that there are no counterfeit chips in play.
Source: NJ.com -
Borgata to use high-tech poker chips at tournament after previous cheating
--
Filed Under:
Poker Scandals