Antonius Up Over $1.2 Million To Start The Year
Published on May 5th, 2014 3:22 pm EST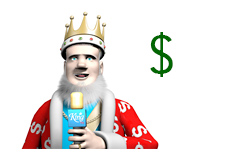 The top of the online high stakes cash game leaderboard for 2014 contains some very familiar names.
At the top of the leaderboard sits Patrik "FinddaGrind" Antonius, who has made an estimated $1,220,765 over the course of 15,196 hands so far this year. Antonius, who is one of the biggest winners in the history of online poker, severed his ties with Full Tilt Poker but continues to be an active participant on the site. Patrik was a former high profile signing to "Team Full Tilt" on Full Tilt Poker 1.0 but elected to move on following the company's well-documented troubles in 2011 and 2012.
Niki Jedlicka, who is a name that you should recognize if you have been following online cash games for any significant period of time, is also having a great start to the year. The player formerly known as "Kaibuxxe" is up just under $1.2 million on Full Tilt Poker this year over a total of 20,059 hands. Jedlicka burst onto the scene in early 2007 when he accumulated over $3 million in profits on Full Tilt Poker over just a few months. Jedlicka managed to parlay this exposure into a Full Tilt Poker sponsorship deal.
Third on the list of the most profitable cash game players so far this year is Daniel "jungleman12" Cates. Cates, who was reunited with a very large part of his bankroll earlier this year (following the payback of Full Tilt's former US customers), is up nearly $1.1 million over the course of 44,823 hands. Cates has put the disappointment of not finishing the "Durrrr Challenge" behind him by banking over a million dollars in profits so far this year.
--
The list of the five biggest cash game losers this year contains some very big names as well, as you can see from this list:
Gus Hansen, -$2,757,831
"Samrostan", -$2,367,039
"Polarizing", -$2,075,266
"Crazy Elior", -$892,866
"Isildur1", -$831,993
Gus is being Gus so far this year, as he has once again managed to drop a large sum of money on Full Tilt Poker's tables. According to HighStakesDB.com, Hansen is down over $17.5 million lifetime in Full Tilt Poker cash games.
Phil "Polarizing" Ivey is down over $2 million on Full Tilt Poker so far this year. Ivey is dealing with a number of issues right now aside from his downswing on Full Tilt, including dealing with ongoing lawsuits with Crockfords and the Borgata. There is $20 million on the line in the two lawsuits as the casinos have accused Ivey of using "edge sorting" to gain an unfair advantage. Given these two massive lawsuits, you can probably cut Ivey some slack if he is a bit distracted right now.
Finally, Viktor "Isildur1" Blom, fresh off of a second place finish in an EPT Grand Final side event, has also stumbled so far in 2014, dropping over $800k.
Source:
HighStakesDB.com
--
Filed Under:
Cash Games